Chat 4.1 Polish
Version 4.1.0 RC 7
WoltLab Suite Chat 4.1 Polish based on Tims Chat – Frontend + Backend
The perfect chat for your community with the feature "Create your own temporary spaces", whisper (personal messages "PN function"), ban, kick, colored usernames, desktop notifications, chat log, clear structure and the automatic takeover of the community Designs, or all used designs from the WoltLab Core / Apps.
Attention: Permanently free
All apps are completely and invariably translated into frontend and backend.
Updates run synchronously to the Bastelstu.be internal updates.

Copyright Seal and Priority Certificate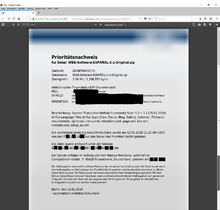 Attention:
This translation is protected by copyright.
The course and development of each language file of the comprehensive translation of the Bastelstu.be software is deposited with a notary in Potsdam, Berlin-Brandenburg, Germany. Thus, the project is comprehensible in terms of usage law in its individual development steps and versions.
Published Versions
Chat Polish Complete 4.1 (Jan 10th 2021)

Chat Polish 4.1 (Jan 10th 2021)
Small business § 19 UStG (Germany)