VieCode Shop 7.2 Spanish
Version 7.2.8
VieCode Shop 7.2.8 for *WoltLab Suite* – Spanish – Frontend + Backend
The perfect shop for your community with with professional services, great design and search engine optimization.
Integrated payment methods: Bank account + Invoice + SEPA direct debit

The following payment methods are available as an extension to payment methods:
PayPal + Apple Pay + PaySafeCard + Klarna/Sofort + CreditCard + Przelewy24 + Alipay + EPS + Giropay
Attention: permanently cheap
All apps are completely and invariably translated in frontend and backend.
Updates run in sync with VieCode's internal updates.

Copyright Seal and Priority Certificate
Attention:
This translation is protected by copyright.
The history and development of each language file of the comprehensive translation of the VieCode Software is deposited with a notary in Potsdam, Berlin-Brandenburg, Germany. Thus, the project is comprehensible in its individual development steps and versions in terms of copyright law.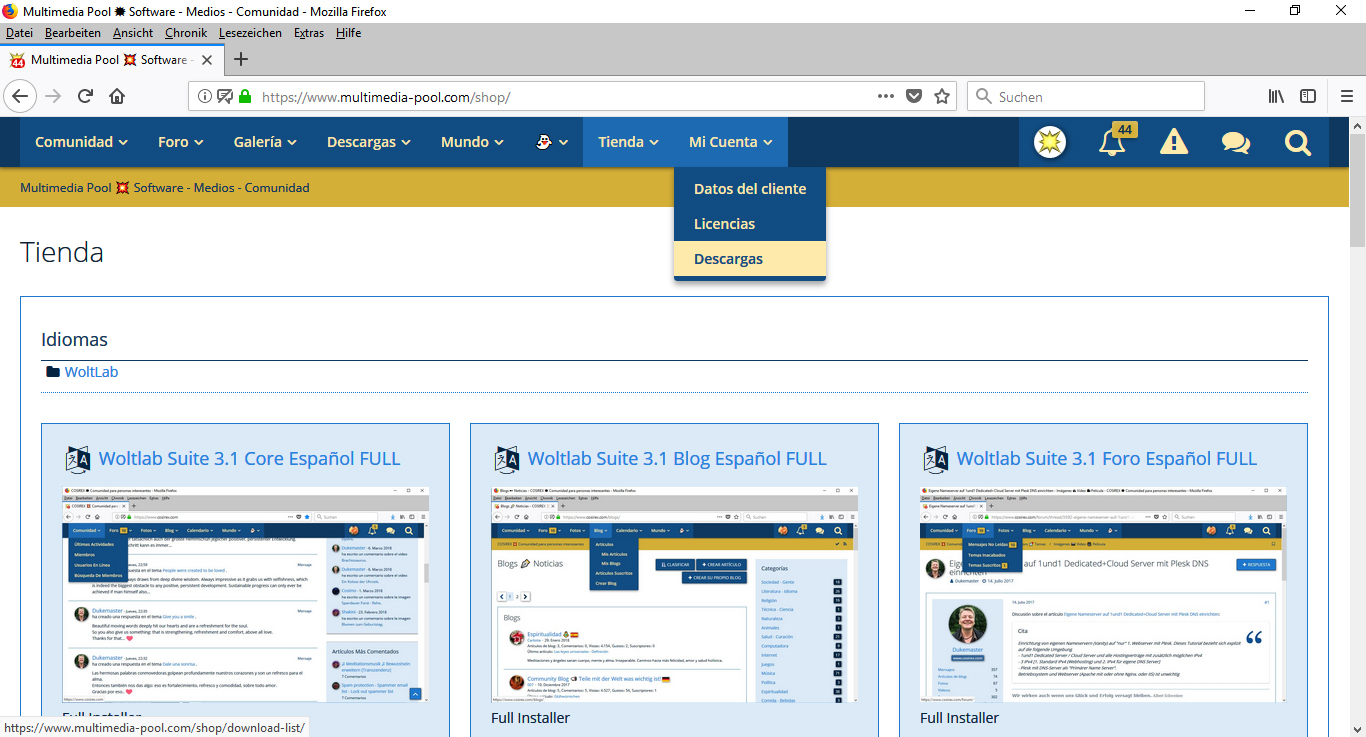 Published Versions
VieCode Shop Spanish Complete 7.2 (Mar 16th 2020)

VieCode Shop – Virtual currency "jCoins" – Spanish 7.0 (May 23rd 2019)

VieCode Shop – Shipping costs – Spanish 7.0 (May 21st 2019)

VieCode Shop – WCF Package Server – Spanish 7.0 (May 21st 2019)

VieCode Shop – Coupons – Spanish 7.2 (May 20th 2019)

VieCode Shop – Affiliate Marketing – Spanish 7.0 (May 18th 2019)

VieCode Shop – App Store – Spanish 7.0 (May 17th 2019)

VieCode Shop – Individual Downloads – Spanish 7.0 (May 1st 2019)

VieCode Shop – Paid Memberships – Spanish 7.2 (May 1st 2019)

VieCode Shop – Subscriptions – Spanish 7.2 (May 1st 2019)

VieCode Shop – Currencies – Spanish 7.0 (May 1st 2019)

VieCode Shop – Payment Methods – Spanish 7.2 (May 1st 2019)

VieCode Shop – Advanced Licenses – Spanish 7.0 (May 1st 2019)

VieCode Shop – Customer Area – Spanish 7.2 (May 1st 2019)

VieCode Shop – Basic – Spanish 7.2 (May 1st 2019)
Small business § 19 UStG (Germany)