WoltLab – Plesk – ngx_pagespeed – 1und1-Ionos
Weekly work, endless test series, ever new changes - all this has paid off. Teamwork is always the greatest and equally successful.
The interaction of the web components ngx_pagespeed, which was integrated just a few days ago in the Plesk server management software, powered by Redis on the Ionos root server, make the performance. In the center of course is the perfectly optimized community software from WoltLab, whose cache is also running with Redis.
The Multimedia-Pool Community Server is in Germany, the homepage of the domain is incredibly difficult, as it contains an image changer in the directly visible area. The page was retrieved and tested by a web pagetest server from Sao Paulo in Brazil, which is almost on the opposite side of the earth.
Here is the wonderful result of Webpagetest.org:
https://www.webpagetest.org/re…a9795d5ebe4c351398f19cc2/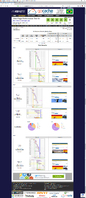 We also like to host your community. Specialized in WoltLab-based websites, forums, blogs, galleries, calendars, download portals, Joomla, Drupal and Wordpress. Just write and ask...
.